SkyWorks Crane Inc. operators have completed professional operator safety training from the Altec Sentry Program, an OSHA and ANSI compliant training program on safe operating procedures. These qualified, professional operators have demonstrated they possess the necessary fundamental knowledge and skills to safely operate the crane while providing a specialized service for you.
OSHA has a long-standing alliance with Altec Industries Inc., the manufacturer of SkyWorks Crane Inc.'s equipment. Altec Sentry has trained over 20,000 workers to use equipment properly according to the latest industry standards. Safety is always the top priority.
In addition, SkyWorks Crane Inc. is fully insured with up to a $5 million umbrella of coverage.
If you need lifting assistance, count on SkyWorks Crane Inc. to provide you with timely, professional service. We can relieve you of lifting burdens quickly, which will allow you to get back to work and focus on your expertise. Leave the lifting to us.

Meet the SkyWorks Crane Inc. Operators: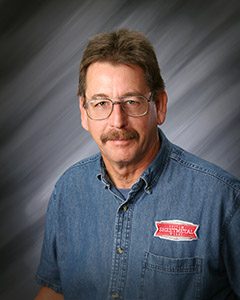 Don VerHelst is a Certified Crane Operator for SkyWorks Crane Inc. and has experience lifting for area customers in North Iowa. He operates the crane for a wide variety of projects including lifting and placing trusses for contractors, moving air conditioning units and many specialized, unique jobs.